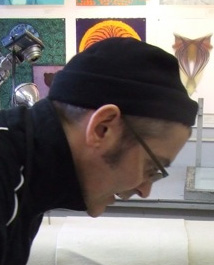 I received my B.A. in History from Grand Valley State University in western Michigan and attended graduate school at The University of Iowa, receiving M.A. and M.F.A. degrees in Printmaking. My focus as a printmaker is etching & woodcut, sometimes merging printing with painting and drawing. My career as an artist has also featured teaching, an occupation I love and one that informs and reinforces my artwork. From my undergraduate days I always envisioned myself pursuing teaching as a career.
I have lived in Chicago since 1999 and currently teach at Harper College in Palatine, Illinois. Before coming to Chicago I taught at the University of Iowa, Grand Valley State University and with the University of Michigan's New England Literature Program as a visiting artist. I have also taught oil painting at The Hyde Park Art Center in Chicago.
I have been teaching etching and relief classes at the Chicago Printmakers Collaborative since early 2003. I have been a member there since 2000 and it is my home in the Chicago art scene and has brought many exhibition opportunities. I keep a private studio where much of my work takes place.
Much of what I teach at Harper is art and design fundamentals along with some printmaking and history. Returning to history and the fundamentals of image-making through teaching has influenced the way i approach my work and has led me to become a painter and an illustrator as much as a printmaker. I enjoy the challenge of new techniques and a more thorough exploration of color in my images. As a printmaker I have always had to negotiate a course between technical precision and intuitive decisions and the renewed focus on fundamentals adds another layer of development.